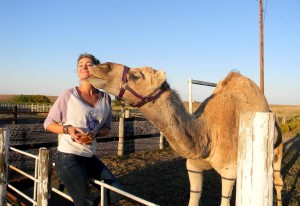 Inevitably, this is the question posed to me more than any other. I suppose it is a fair one. Not too often do find a soul more enamored with them than me. My love affair with the desert beast started many years ago and the story of how it came to be is quite lengthy, but it is a good story.
When I was a senior in high school, my dad took me on an overseas trip. He said he wanted to me see how big the world can be and that not everyone lives where two-car garages, free education and pantries stocked with food are the norm. He wanted me to experience a developing country and he chose Egypt. So we grabbed our backpacks, obtained approval to miss school and boarded a plane to Cairo, Egypt.
We landed in this foreign land with nothing more than a map of the country, rental car reservations and a return airline ticket. We had almost a month, no limitations and no plan. The adventure began the minute we stepped foot out of the airport and took the keys to our rental car. It was dusk, the call to prayer was blaring, traffic was Cairo-chaotic and we needed a hotel room. We drove around for hours, our eyes as big as saucers taking in the sights, sounds and smells, none of it like our sleepy Midwest home.
We eventually found a hotel, pulled out the map and a made a few rough plans about where we might travel during the weeks that lay before us. I suppose it goes without saying, every day after provided a life lesson, a new awareness and moments I will never forget, but I had no idea how one day driving through the desert could change the course of the rest of my life.
We were a few days into the trip, feeling excited and comfortable with our experience and traveling to Siwa, an oasis in the Sahara near Egypt's border with Libya. We were surrounded by nothing but vastness and sand. The view from the window, nothing but sifting sand, for hours. Then, something caught my eye.
"Look, Papa! There is a herd of camels!" With a quick glance out the window, dad responds, "No, those are just oil derricks." As if on cue, one of those "oil derricks" raised his head and stared in our direction.
That, of course, filled our little rental car with laughter and created a shared joke that makes us giggle several decades later. But, somehow, that moment unlocked something within me and I have never been the same. That drive through the Libyan Desert introduced us to herds of camels, adults and babies, a variety of colors and that is where it all began. Since that moment, camels have had a hold on me like few other things.
Before we headed back home, I bought a few camel statues and trinkets in the bazaars, but did not think much of it. I suppose most teenagers tend to do things without much thought, but now as an adult I cherish those finds, that moment and the many memories I brought home from Egypt.
My life is now filled with a love of camels—trinkets, experiences, knowledge and, because I may be the luckiest person I know, real, alive, loving camels. I have some "oil derricks" of my own. They make me smile. They make me remember where I have been. And not a day goes by that I don't wonder if it is all a wonderful dream.