They are not your ordinary names, I realize that. Some people just call them the "big one" or the "little one," or the "dark one." I assume that is because their names are not easy to say or understand. But, their names are special and mean so much to me.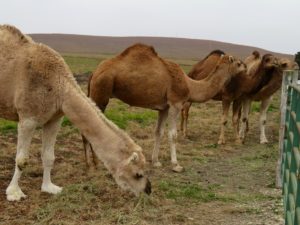 My dad grew up listening to the song You Belong to Me by The Duprees. Patsy Cline made it popular. The love song suggests you can travel all around the world, but never forget that someone at home loves you and wants you to return. The lyrics paint the picture of seeing …the pyramids along the Nile…tropical islands…oceans…jungles…and the marketplace in Old Algiers…  It did not take long for a young farm boy, sitting atop a tractor in Wabaunsee County, to begin dreaming about traveling to these faraway destinations.
That farm boy grew up and became my dad. He passed along many things to me, including a sense of adventure, a passion for travelling to exotic places and, consequently, an appreciation for You Belong to Me. We began our travels, ticking off the list of locales romanticized in the song. To be fair, visiting the places in the song was dad's bucket list, but I was lucky enough to get swept up in the adventure.
Siwa
My oldest camel, and the first to arrive at Shamrock Farms, is aptly named Siwa. In our earliest adventure, dad and I traveled to Egypt to see the pyramids along the Nile and while we were there we drove to the famous oasis named Siwa. This historical spot is where Cleopatra and Antony were believed to have spent time frolicking among the date trees. To arrive at this desolate and isolated destination, we drove for hours through the Sahara Desert to the Libyan Border. It was during this drive that I first saw camels roaming the desert and when love-at-first-sight nearly knocked me off my feet. My passion for camels began on our journey to Siwa.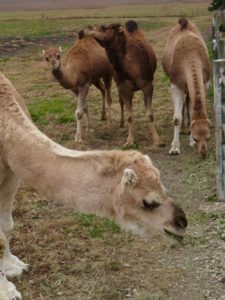 Siwa quickly developed into the leader of the herd and he is the one who sets the tone for the other animals at Shamrock Farms. Like the oasis for which he is named, he is stately and tranquil. He demands order and intervenes if anyone ever gets too excited, animated or disobedient. He is ominously large in stature, but has a gentle heart. Siwa is intuitive and sensitive. He knows a storm is heading through the Flint Hills before the weather men know. He shows affection for the people in his life and for the tiny kittens that may play games on his big feet. Just as he shows adoration, he shows patience and even grief.
******
It didn't happen quickly, but we found ourselves traveling from one destination to another, enjoying every stop along the way. We traipsed through the jungle in Tanzania, enjoyed the island of Sri Lanka, dipped our toes in the Mediterranean Sea and took a prop plane into the depths of the desert. The mission to experience each moment of the song was slowly nearing completion. But as in many things in life, there was one destination that remained out of our grasp. We would get close and we would be turned away. We would think we had a good plan and then some international incident would foil our hopes. Political tensions, terrorists and the very fact that we were Americans got us thinking that it might not happen. But a change in politics, a little luck and some elusive patience opened up a window of opportunity and we jumped!
Algiers
In May of 2011 my husband, my dad and I hopped a plane to Algeria. We landed smack-dab in the middle of the Arab Spring, but we also landed in the marketplace in Old Algiers. The place was eerily unaccustomed to hosting Americans, mysterious, exotic and hinted at a time long before us and long before the song You Belong to Me. But we were there, we were walking the cobblestone streets, we were breathing the air and we accomplished our mission. And in a nod to our Kansas home, we even stayed in the Eisenhower Suite at The St George Hotel. This is where President Eisenhower and Winston Churchill planned the D-Day invasion.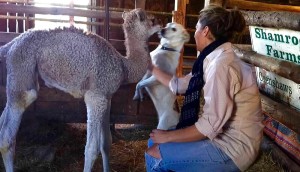 I never thought I would be able to raise a baby camel because careers, finances and timing always seemed to be looming barriers. So when Baby Algiers came into my life and my dream of raising a baby camel came true, it seemed fitting that he signify the excitement, fulfillment and sheer joy of achieving another dream, experiencing the marketplace in Old Algiers.
When Algiers arrived at Shamrock Farms he was 70 pounds of legs and neck covered in kinky, curly hair. He grew fast and, at a similar speed, his personality blossomed. Algiers is the camel who desperately wants your attention and never hesitates to tell you. If he thinks you have ignored him or not responded as quickly as he would like, he will pout, stomp his feet.  Or, he might blatantly ignore you. But it only takes a few strokes of a curry comb on his neck and all sins are quickly forgotten. He is respectful of Siwa's leadership and flourishes amid a routine.
******
I thought that was it. Everything was wrapped up neatly with a bow. We experienced everything mentioned in the song of my dad's childhood. Check! Be lucky enough to raise a bottle-fed baby camel. Check! Have a pair of camels to call my own. Check! Life was good and I was content. End of story, right?
The summer of 2015 changed everything. My equation for a perfect life got more complicated. This is probably where it seems the story might take a tragic turn. Not so.
My camel pair became a camel herd with a twist of fate, a dash of luck and the mix of two parents who enjoy spoiling their daughter! Dad got a call from a lady he met a couple of years earlier. Their paths crossed when she tried to talk my dad into selling her the sidewalk sign for my mom's antique store, Caravan Antiques. The attention-grabbing sign is in the shape of a camel. The conversation led to her telling my dad that she was buying two baby camels. This was shocking news—how could there be two camel-crazed ladies is such a small community!? Statistically improbable.
We visited the babies. My dad tried to buy one from her. She said no (of course)! She referred my dad to a breeder so he could surprise me with a baby one day. End of story. Or at least we thought.
My camel-crazed soul sister made the tough, careful decision that she needed to make some lifestyle changes that included finding homes for her beloved babies. Now she could have called any camel breeder and unloaded those two girls quickly. She even got an offer of $15,000 for the pair. But, apparently, this wasn't about money. This was about her babies. She believed her girls would have a happier life at Shamrock Farms and convinced my dad our camel pair should become a camel herd.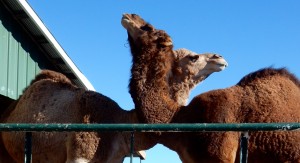 Dhafra
Dhafra is our tall, dark beauty named after the world's largest camel beauty pageant. The festival is held each year in the Empty Quarter of the United Arab Emirates. Camel herders, camel owners and royalty from all over the Arabian Peninsula bring their top stock to compete for prizes like brand new Land Cruisers and to sell show winners for millions of dollars. The camels take center stage where they are admired, adorned with satin blankets, spritzed with saffron and trotted around by owners whose chests are bursting with pride. We had a blast at the festival and maybe it was because we were surrounded by my kind of people. The kind of people who drop everything to look at a camel and who appreciate their enormous value.
The irony is how well Dhafra represents her name. She is the perfect ambassador because of her dark beauty, but also because of her insatiable appetite for attention. She swirls around, chats and downright demands that anyone within her sight take some time to be with her.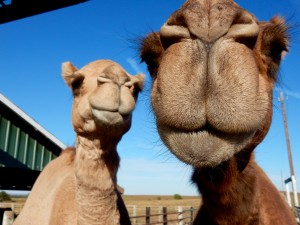 Ani
There are those places you visit that don't make many maps and are certainly never mentioned in the guide books, but you find they take permanent residence in your memory. Ani is one of those places. In the Northeast corner of Turkey on the Armenian border in the province of Kars, the eerily isolated and auspicious medieval village of Ani can be found. It is quiet, beautiful rugged and simple. There is no way to describe how this once bustling, but now deserted hamlet made such an impression on us. The romantic pull could be an appreciation for the residents' determination to survive in such a harsh climate or the appreciation of its peacefulness.
Our Ani is like her faraway namesake: strong, quiet and beautiful. She is gentle, mysterious and alluring. She must wait for her sister, Dharfa to get showered with attention and then she unassumingly draws you in. She is loving, respectful and independent. When you least expect it and your mind is wandering, you just might find yourself thinking of her.
******
Over the years as the camel herd was developing and we were learning the many facets of camel companionship, there were some dreary days that overwhelmed. When you allow yourself to feel such strong love and connection, you become vulnerable to heartache and sorrow. Along this camel journey, there was another camel at Shamrock Farms who now exists in our hearts and memories.
Sarid
My dad moved to Israel one year where he lived on a kibbutz. Everyone who lives on a kibbutz is expected to contribute to the community and economy of the kibbutz. The Jewish community accepts volunteers who live and work among the locals. Many of the volunteers are assigned to kitchen duties, housekeeping duties or roles cleaning the dairy. It was unprecedented for a volunteer to ever work on the harvest crew or any of the agricultural duties, but dad was persistent, maybe even relentless. The volunteer coordinator finally gave dad a chance, probably with the intent of having the farm manager turn dad away on his first day. Harvest was serious work and not something for amateurs or unseasoned volunteers.
I can only imagine what the harvest crew thought when this American showed up for duty wearing a John Deere hat and the confidence that he could do anything they asked of him. As the all-Muslim crew stood around sipping their strong Arabic coffee on the first morning, the hazing began. The manager instructed my dad to jump on the tractor, hook it up to a trailer and then back the trailer into the barn. And as quickly as the hazing began, the hazing ended. Within minutes, the task was completed—without even a second try—and dad was ready for his next directive. Little did they know that dad had been doing such a seemingly challenging task since he was in grade school. His time in Sarid allowed him to farm land and harvest crops near Nazareth, Meggido, Jenin and Mount Tabor. When his time at Sarid came to an end, he had made great friends with the harvest crew and celebrated Ramadan at the crew manager's home. I visited dad at Sarid and, because of the special memories, insisted that be the namesake of our tough, determined and loving camel.
I guess to be honest, Sarid was a sort of impulse buy. We planned on buying Siwa, but came home with Siwa and Sarid. He was born with a handicap, but never knew it. He was young, energetic and carefree. He was Siwa's sidekick and best buddy. They came to Shamrock Farms together and paved the way as the first camels to live
among our other livestock. He did whatever Siwa told him to, chatted non-stop and loved to wander around the ranch. No one acted as though they loved life more than Sarid. He was daffy, loving and obedient. Sarid was a dark brown wooly camel with black highlights on his hump. He was a dapper fellow.
Sarid had some bad luck physically as he had to undergo several surgeries on his leg and ultimately the weakness in his leg determined the shortness of his happy life. Saying goodbye to Sarid was unbearably difficult for us and for Siwa. His fun-loving ways were cherished and his gentle heart will forever be missed.